Happy Chinese New Year!
新年快樂!!
A dragon dance performance to celebrate the New Year!
The Chinese community around the world welcomed the Year of the Rooster, which begins on January 28 this year.

The Chinese New Year is based on the lunar calendar and features 12 Chinese zodiac signs, represented by animals that occur in the following sequence: rat, ox, tiger, rabbit, dragon, snake, horse, goat, monkey, rooster, dog and pig.
Combined with the Chinese five atomic elements: metal, wood, water, fire and earth, they form 60 possible combinations so, in fact, 2017 is the Year of the Fire Rooster.
Epiphany parishioners during the Chinese New Year
Like Western horoscopes, the Chinese zodiac is believed influence a person's disposition and luck. Although Chinese Christians do not practice Feng Shui they still adopt practices that are cultural traditions to celebrate Chinese New Year.
For example, as a symbol to drive away evil and welcome the spring which represents life, people wear red clothes, give monetary gifts in red envelopes, perform lion or dragon dances, burn firecrackers and greet each other with good intentions.
The following is a Chinese Character which stands for blessings. During the Chinese New Year, people would paste this and similar characters on the doors of houses, buildings etc.
The Chinese also believe that the blessings that come to them should remain with them. So when the character is pasted on the doors, they paste it upside down!
Certainly, this character was modified by Mr. Martin Chung, one of our friends from Macau and it appears to have someone praying before the image of the Cross!
A short video, showing the fireworks to celebrate
the Chinese New Year in Hong Kong
--------------------------------------------
The Feast of the Epiphany in HK
Eucharistic Celebration on the Feast of the Epiphany
in Epiphany Parish, Mui Wo
Epiphany Parish, Mui Wo in Hong Kong celebrated the Parish Feast Day on 8 January 2017 with a Marian Procession, concelebrated Holy Eucharist and a gathering with agape meal and cultural events.
Procession during the Feast of the Epiphany
Every year, on the first or the second Sunday of January is chosen to celebrate the Fast of the Epiphany Parish, which one of the smallest in terms of numbers but one of the largest parishes in the diocese in terms of the geographical territory. Claretian Missionaries are serving in the parish since November 2015.
Marian Procession during the Feast of the Epiphany in Mui Wo
Additional Reasons to celebrate!
Fr. Mario Bonfaini, CMF
is celebrating his 50 years of Ordination this year.
Sr. Margret Chiu
celebrated her 60 years of Religious Life last year... and many more celebrants on stage with lots of cakes!
Dancers on roll!
The feast day celebrations began with an hour-long Marian Procession from the Parish Church through the streets of Mui Wo to the recreation centre of the island. The concelebrated Holy Eucharist was presided over by Rev. Dom. Lei Daat Sau, Anastasius, a Benedictine Monk from the Our Lady of Joy Abbey. Over 300 faithful attended the celebrations.
Parishioners pose for a post-celebration photo-op
--------------------------------
Our Lady of Fatima statue tour HK
One of the centennial pilgrim statues of Our Lady of Fatima blessed by Pope Francis arrived in Hong Kong
Hong Kong Catholics welcomed Our Lady of Fatima statue that toured Asia in the month of January 2017. Thousands of Catholics flocked to various parishes in Hong Kong where the statue of Our Lady was on tour in January 2017. The statue of Our Lady of Fatima, blessed by Pope Francis started its Asian pilgrimage with Hong Kong as its first stop to celebrate the centennial of the Marian apparition in Portugal.
Pope Francis blessed six Centennial Pilgrim Statues of Our Lady of Fatima at the Vatican on Jan. 11 before sending them on tour in six continents. Hong Kong is the first place in the world where a statue landed.
More than 1,000 Catholics packed St. Teresa Church for a Mass and veneration to Our Lady Lady of Fatima with flowers and prayers on January 16. (ucanews.com photo)
"Pope Francis was really excited about this event. He looked at each statue, said a long prayer in front of each single one and gave his blessings," an organizer who escorted the statue to Hong Kong stated. "He said he is expecting a news report of the pilgrimage journey too."
On Jan. 16 more than 1,000 Catholics packed St. Teresa Church for a special Mass. The liturgy was followed by an overnight adoration of the Blessed Sacrament. "It is a good time to re-proclaim Fatima's message about world peace and conversion along with the pastoral direction of Hong Kong Diocese," said Father Dominic Chan, vicar general of the Diocese.
The visit of Our Lady's statue to Hong Kong has drawn wide attention from Catholics in mainland China. Some even prepared to make a pilgrimage to Portugal as the statue is unlikely to visit mainland China. "We underground Catholics have nothing to protect us but the Blessed Mother. Thus, she is very dear to us," said Father Joseph, an underground priest in northeastern China.
"In the 1950s, a time of religious persecution, the communists were angry to find that the Holy See had called on Chinese Catholics to pray for the intercession of Our Lady of Fatima. They regarded her as 'Our Lady of Anti-Communism' and 'Our Lady of the Counterrevolution,'" recalled an elderly Catholic from the underground church community.
The statue of Our Lady will continue its journey to the Philippines at the end of January.
- Courtesy: www.ucanews.com
--------------------------------------------
World Day Of Migrants And Refugees
Migrant workers in Macao celebrated the 103rd World Day of Migrants and Refugees on January 22, 2017 at the Auditorium of Escola Sao Paulo. With the theme "Minor Migrants, vulnerable and voiceless," this year's event organised by the Pastoral Care of Migrants in Macao and the Diocese of Macao, aimed at recognising and providing care and protection to the children of migrant workers.
A Eucharistic celebration officiated by Vicar General, Rev. Fr Pedro Chong and concelebrated by nine other members of the clergy commenced the day's events. Lunch immediately followed showcasing the distinct cuisine and delicacies of Indonesia, Vietnam, Myanmar, Philippines, and Thailand. A cultural show that followed transpired colourful dance and song presentations of migrants from Vietnam, Myanmar, India, Philippines, and Indonesia.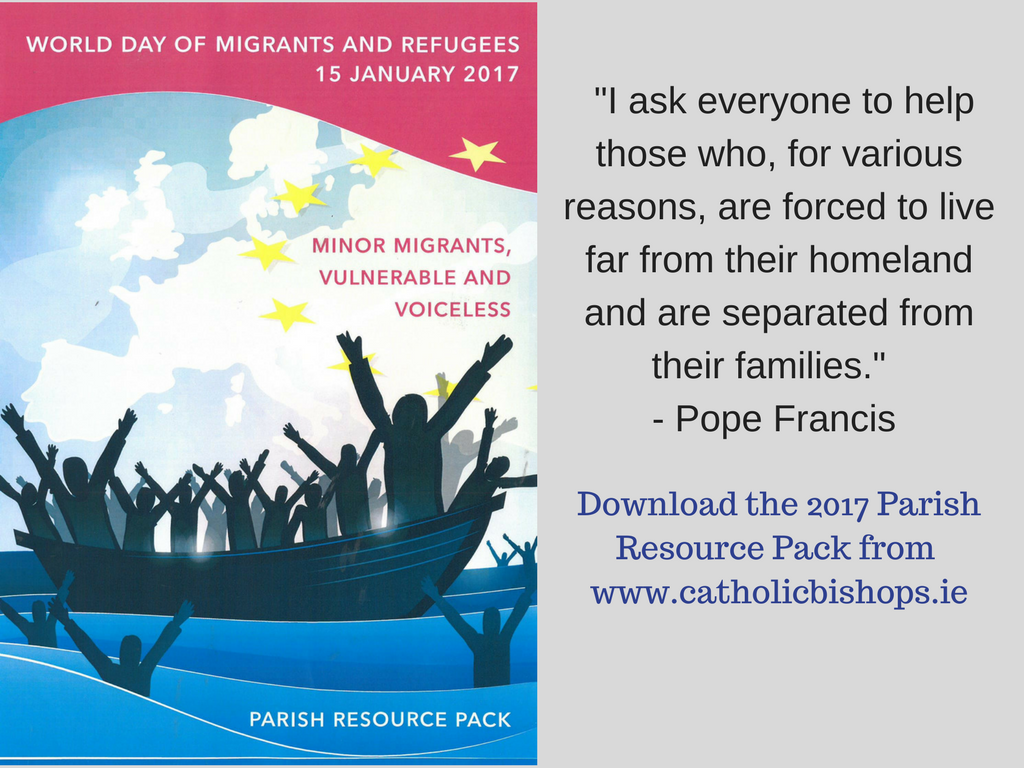 In her Inspirational Message during the show, Sr Judette, a member of the Religious of the Cenacle and a Visiting Professor of the University of Saint Joseph (USJ) Macau, said, "Today's celebration is the Church's way of reminding us not to close our hearts and become indifferent. We are being called to open our hearts to welcome the stranger and the homeless, and to be in solidarity with our unfortunate brothers and sisters who are forced to leave their families and homelands for the sake of survival. The most vulnerable of these migrants are the children. The Pope is asking us to take care of the young who in a three-fold way are defenseless: because they are children who are innocent and can easily be misled; because they are foreigners who do not speak or understand a language not their own; and because they have no means to protect themselves, especially those unaccompanied by adults who can shield them from danger."
She added, "We are all migrants in this world and we need to be in touch and to accept our own wounded inner child. In order not to desensitise ourselves to the plight of children migrants, we must ask ourselves what we can do in our own little way."
The importance of migrant workers is well recognised by the local community. "Migration is important in developing the country. There are certain jobs that the locals do not want to do and we need to import labor from other countries to bring in the knowledge and skills, otherwise the country couldn't progress," said Nuno Figueiredo, Manager of Banco Nacional Ultramarino (BNU), who graced the event with his family.
Migration in Macao has risen over the past two decades and at present there are about 170,000 migrant workers. Dante Quejano, who is now a permanent resident of Macao shared that in the 1990s the number of migrant workers dramatically increased, so the government started issuing work permits.
"When I came here in 1988, I worked as a construction worker for two years until I landed a job at Yuet Wah College as a Librarian and Administrative Assistant of the Principal. There were only a few of us and the Macao government automatically granted permanent residency to migrant workers regardless of nationality. But in the 1990s, this changed."
Two Indian kids performing a Bollywood number during the Migrants' Day Celebrations in Macau
Migrant workers are expected to continue making up a large portion of Macao labor force due to limited workforce among the locals.
- Courtesy: www.oclarim.com.mo
---------------------------
Missionary's anti-drug campaign
An Australian missionary is discouraging African drug traffickers from entering Hong Kong by asking inmates to send testimonies back to their home countries.
Father John Wotherspoon, right, meets a parent of a Tanzanian inmate during a trip to Tanzania in January 2015.
After learning about the rising number of African drug traffickers imprisoned in Hong Kong, Oblate Father John Wotherspoon, a prison chaplain, launched an anti-drug campaign. The campaign invites inmates to write letters warning their fellow nationals not to repeat their mistakes. Father Wotherspoon publishes the letters on a website.
According to the missionary, before the campaign around 30 Tanzanian drug traffickers were apprehended at the airport and imprisoned in 2012-13. In 2016 there were only three such arrests. "It has stopped around 100 traffickers from entering Hong Kong in the past three years," said Father Wotherspoon.
The campaign combats the lack of information in home countries. "People do not know that they may be sentenced to jail for 10 to 12 years if caught," said Father Wotherspoon.
Hong Kong provides a popular transit route for drug trafficking because of its proximity to China's sizeable cocaine market. Hong Kong is also relatively accessible, because its port lacks fingerprint checks or the requirement of a visa for citizens from many African countries.
Among the letters published is that of a 40 year-old Tanzanian woman jailed in 2016. Writing in English and Swahili, the woman recounts how two Nigerian men persuaded her to pick up drugs in Dubai and take them to China via Hong Kong.
She appeals to her fellow Tanzanians: "However much poverty may lead you, do not be tempted to either use drugs or traffic it to countries around the world. "Now, I am in prison and have left my family suffering. Avoid this before it happens to you."
Fr. Alberto, Fr. Jose and Fr. Arnold with Fr. John Wotherspoon:
Sharing ideas for a shared mission
Father Wotherspoon's campaign also includes visits to Africa to share the message in person. "I visit around 30 inmates' families and bring them messages and donations. I'll also try to gather them together as a supportive group to help each other," said the priest.
Father Wotherspoon's campaign is self-financed, with local friends sponsoring his trip. He expressed hope that the next Hong Kong Chief Executive might consider allocating resources to the campaign to increase its effectiveness.
------------------------------------
Presence in China
In our monthly bulletin we always tell you about the work of the Church, various experiences and what can be done in China. Today we are going to present a special experience. It is a story of a missionary who is an English teacher at a Chinese university - and much more than a teacher. This missionary is a Doctor of Theology, but preferred to spend his life in China as an English teacher and to help these young Chinese. Here's what he writes:
Not just a teacher
"Happy new year! It's my graduation year! I want to thank my teacher! You're my first foreign friend. I never imagined that I could have the opportunity to speak with a foreign teacher. What you told me helped me through my university life. " [Testimony of a young Chinese university student].
In the course of my six years of teaching English at a Chinese university I have had many conversations with my students on different subjects and I have realized that young people in China are very often lost in searching for the meaning of their lives. They need models and guides, but they cannot find them. One day, I was walking on campus and I saw one of my students sitting on a bench and lost in thought. I invited him to take a walk and talk about his problem. He opened his heart completely. It is often easier for them to open up to a stranger. His mood changed completely. I thank God for my level of Chinese so I can talk to my students.
So, apart from teaching, my main role on campus is often to listen to the personal stories and aspirations of these young people. Over time, I am not only a teacher, but also a friend, guide and counsellor.
------------------------------------
Bible Training
The same missionary describes another experience:
We finished another semester in the University and I have already presented the notes of the almost 300 students. On January 9 we began a Bible course in Macau with 26 participants who came from mainland China for these 5 days of reflection and study of the Word of God. The subject was about the Prophets.
"EATING THE WORD"
Our Founder (Fr. Claret) writes in his Autobiography that he was strongly attracted to the Holy Bible and the reading of the Bible moved him and stimulated him greatly in his life. The Bible was the source of his apostolate. In a way, I too feel deeply drawn to the Holy Scriptures and is also the source of my apostolate in China, through Bible seminars for Chinese lay preachers and leaders.
It all started in January 2012 after finishing my two years of studying the Chinese language. At first, it was an annual event, but then since 2014, it has become a biannual event - winter and summer. It is a six-day course and participants come from different provinces and dioceses of the Mainland. We cover selected topics from the Old and New Testaments. Topics to date include (1) Biblical Christology; (2) Letters of Paul; (3) the Lord's Prayer; (4) Commentary on the Exodus; And (5) Prophets.
In early January 2017, we completed another seminar with 26 participants.
--------------------------------------
Try decoding it!
Ha ha! This is a challenge for you! If your smartphone has the app for scanning the code, decode it. If you do not follow the language spoken, choose the subtitle in your preferred language. I should also tell you a secret: (Do not tell anyone!)
Fr. Alberto

fell sick and still going through a series of check up and medication because he had spent too many hours preparing all what you see here! Decode it! It's worth the try! or Click the link below: